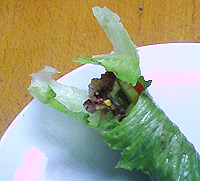 Ingredients
# lean turkey mince
# onion finely chopped (for cooking)
# oat bran
# fresh coriander finely chopped
# kashmiri chillies flaked
# tomatoes chopped
# cucumber chopped
# onion chopped
# romaine lettuce leaf whole
# fat free greek yogurt
Method
For the turkey: Mix the turkey mince, onions, coriander and chillies (optional) together in a mixing bowl. Add a teaspoon of oatbran (unless you're making loads, then add more). Mix and then shape into oblong patties.
Grill the patties without oil under a moderate heat until cooked through. They taste best slightly crispy (think crispy duck pancakes).
A single romaine lettuce leaf has the natural shape of a taco shell. Fill one leaf with the cooked turkey and then add some low fat greek yogurt, chopped tomato, onion and cucumber. If you want it extra spicy you can add another chilli. I like kashmiri chillies because of the flavour and the mild-moderate heat.
Two of these are not only delicious but will keep you filled up, and hunger away, for hours.
You can read a more detailed account on my blog:
Dukan diet menu
---
Permissions in this forum:
You
cannot
reply to topics in this forum